ALL
What are the characteristics of different sinks?
by Alipu Huang on Jul 23, 2020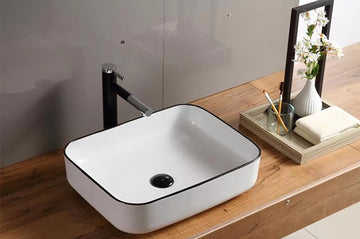 Types of Bathroom Sinks
When shopping for bathroom sinks, you have a plethora of options. No matter your plumbing situation; whether your drains come from the floor or the wall, how much space you're working with, or the design you're going for, there's a perfect sink for you. Wayfair carries dozens of types of bathroom sinks, so having options is never a problem! It's choosing the right sink for your needs that requires more thought. Below are the six most popular bathroom sinks.
Pedestal Sink
Pedestal Sinks have two parts to them: the pedestal (leg) and the basin. Pedestal sinks are most common in guest baths and half baths because these sinks don't take up a lot of your bathroom's footprint. Because they're a great solution for a tight bathroom, they don't come with storage or much counter space. However, it's totally possible to find a pedestal sink with a wider basin and flat space for setting down your personal products. So yes, a pedestal sink in the master bath is doable!
Undermount Sink
Undermount Sink installation allows for a seamless integration from counter to sink. Under-the-counter sinks can come in any shape and size. The best part is that these sinks are designed to fit into a bathroom vanity or sink ledge, giving you ideal functionality.
Drop in Sink
Drop In Sinks are also known as self-rimming sinks. Drop in sinks drop right into a pre-cut hole in your counter. They have the signature lip that rests over the vanity after they're installed. Drop in sinks tend to be less expensive and have a fairly simple installation. The only downfall is that water and grime can begin to build up in between the counter and the lip of the sink. But that's nothing a proper clean and dry after every sink use can't prevent!
Console Sink
Console Sinks are built unlike others. Most sinks are built with vanities or a pedestal to hide the sink's plumbing, but not console sinks. In many console sinks, the exposure of the drain and pipes is key to their overall look. Console sinks share some similarities with pedestal sinks and wall mounted sinks. Console sinks can be freestanding or wall mounted. In either case, legs need to be present to help hold the sink up. Like pedestal sinks, console sinks are space savers, but oftentimes will come with a small counter, too.
Wall Mounted Sink
Wall Mounted Sinks are a great solution for a tight bathroom with little open floor. Wall hung sinks give you more floor space, which is easier to clean, too. The pipe work to a wall mounted sink goes through the wall, so if that's not already the case for your bathroom, you'll have to do some drain shifting. Make sure your wall is sturdy enough for 30 pounds to hang from it, too. In some instances removing the dry wall and installing 2-by-4s for the sink to mount to is the way to go!
Vessel Sink
Vessel Sinks, also known as bowl sinks, are free standing sinks that are mounted directly on top of your counter. They don't need any special plumbing. Vessel sinks are easy to swap out and install. Other than versatility, bowl sinks are comfortable! They rise anywhere from two to six inches above the counter so you don't have to bend over as much when using the sink.
Different sinks have their own functions, choosing the right one will bring more convenience and comfortability to your life. Make sure to shop for the appropriate bathroom faucet for your vessel sink and Boyel Living will provide you with more consulting services. Welcome to contact us to know about choosing sinks tips by e-mail!