ALL
Trends We're Loving: Wall-Mounted Faucets
by vickyguo on Apr 22, 2022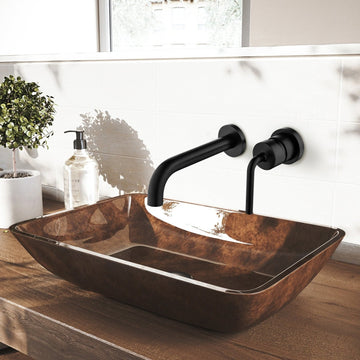 We've always had quite a thing for wall-mounted faucets!In any busy bathroom, counter space is always prime real estate. Whether it's a shared family bath, or the master bathroom of a busy couple. Finding yourself dealing with a severe lack of counter space?
    Consider installing a wall mount bathroom faucet instead of a traditional single hole or 3-hole faucet. Not only do they create a stylish and versatile look in your bathroom, but this style of faucet is functional as well. By mounting on the wall, you ultimately create more space in the bathroom. They pair well with different styles and even work to save space — one of the biggest design challenges in bathrooms! Another bonus? They're easier to clean! There's far less room for calcium and dirt to build-up.
    From minimalist to traditionalist and more, see how wall-mounted faucets add a clean, streamlined design element. They work especially well in a modern or utilitarian space. We love seeing them in the bathroom and the laundry room!  With multiple sizes, lengths, and finishes, there's something for everyone. 
    Read on to learn more about wall mount bathroom faucets, and see if this style is right for your home.
    Wall mount bathroom faucets install, like the name suggests, on the wall above the bathroom sink or vanity. The faucet connects to a waterline that is run behind the wall, rather than through and underneath a vanity.
    I strongly recommends the use of a professional to install any wall mount bathroom faucets. They have the skill and know-how to safely and effectively run the waterlines behind the wall. They will also be able to install a discrete access point where you can get to the waterlines without knocking down the wall in the unlikely event of a leak.
SINGLE HANDLE WALL MOUNT BATHROOM FAUCETS
    A single handle wall mount bathroom faucet features only one handle to control both the waterflow and water temperature. It's a great choice for a minimalist style. Let the sleek and simple faucet speak for itself: It makes a big enough statement being mounted on the wall.
DUAL HANDLE WALL MOUNT BATHROOM FAUCETS
    This Wall Mounted Bathroom Faucet provides beauty and magnificence with its subtle detailing. Attached to the wall behind your sink, the horizontal pop adds a stunning element to your bathroom design. Its featured sturdy brass construction and premium finish are guaranteed to glamorize your home's modern ensemble for years to come. Luxuriousness and elegance are delivered by the qualities found in this fixture.
    Above all, wall mount bathroom faucets are great for saving space in the bathroom. They eliminate the need for mounting a faucet on the countertop, giving you more square footage and counterspace. They also create an elegant look in the bathroom, perfect for modern minimalist décor or a décor that's more stylish and refined. If you're short on space in a small bathroom, a wall mount bathroom faucet is a functional solution that fits most styles.