ALL
How to Create an Outdoor Office
by vickyguo on Jun 02, 2021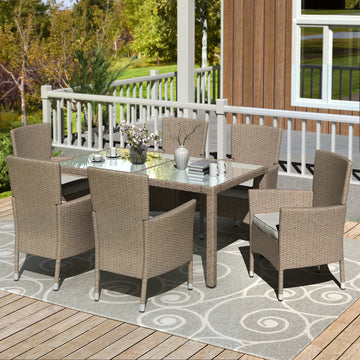 Creating a Functional Outdoor Office for People who Work From Home
With many companies shifting toward a work-from-home model, employees need spaces where they can work effectively. One of the best benefits of working remotely is being able to change up your scenery, so why not stretch your legs and relocate to the backyard? An outdoor workspace allows you to enjoy productivity-boosting fresh air and sunshine, all in the comfort of your porch or deck.
Benefits of Working Outside
The outdoors has a naturally mood-elevating effect that can do wonders for your work performance. By turning a backyard into an outdoor office, remote workers might discover some amazing benefits, such as:


Increased happiness by reducing your risk or relieving symptoms of depression and anxiety.
Improved levels of energy from being in nature, especially when you take active breaks.
Decreased stress levels since natural settings can help lower blood pressure.
Greater creativity that comes from stress relief.
Overall better productivity from workers who feel happier, healthier and more satisfied with their jobs.
Consider the Practicalities
Your office should have the same amenities as your on-site workspace, including your computer and any tools your job requires. When setting up an outdoor office, the main goal is to maintain productivity, so you'll need to address the unique challenges you may face by working outside. For starters, choose a covered location like a patio, gazebo or sunporch to ensure that your electronics stay dry and safe.

Once you choose a spot, make sure you have a reliable electrical outlet or run outdoor-safe extension cords to your workstation. Invest in a table with plenty of surface area to work, and that is tall enough for you to sit comfortably. You may also want to consider creating a mobile print station with a wireless printer on a rolling bar cart or filing cabinet.
Invest in Sun Protection
Although bright days make us feel happier, the dangers of prolonged exposure to UV rays and the annoyance of screen glare are less than ideal. With the proper protection, you can stay outside and enjoy the warmth and sunshine for longer. Applying sunscreen is always a smart way to keep your skin healthy and drinking plenty of water keeps you from becoming dehydrated.

Meanwhile, your office also needs physical barriers to keep you protected. Add an umbrella to the patio table, or choose a cantilever option that you can adjust as the sun moves through the sky. If you need a lot of room to spread out, canopies come in various sizes to provide shade for a larger work area.
Build an Outdoor Structure to Work In
For those working from home who need a dedicated office space, an outdoor structure like a shed or detached garage may be the perfect solution. Even children's playhouses are easy to convert into workspaces for adults with a few tweaks. Using a separate space for your outdoor office has many advantages, including:
Fewer visual and auditory distractions.
Ability to work under almost all weather conditions.
Option to personalize the interior for creative workers.
Creates a clear separation between your home and work life to encourage productivity.
Increased storage space for files and paperwork.
Gives you the option of leaving your work exactly where you left it for the next day.
Make sure that your Wi-Fi connection extends to whatever outbuilding you choose to use, or run a wired connection to the space to ensure you always have internet. You should also make sure that the structure is waterproof and secure if you intend to leave your electronics inside.
Create a Comfortable Layout
When you have to spend hours seated in front of a computer, a supportive chair is an absolute must. It's less than practical to wheel an office chair to the porch, so you may want to invest in comfortable patio furniture that functions well for work and play. For instance, a dining set provides comfy seats and a spacious work surface.
A great substitute for a desk, chat tables pair well with outdoor sofas or sectionals and provide a convenient place to set your laptop. You may also want to choose a comfy chair that provides optimal lumbar support. Benches are another great option for those who like to move around or stretch out while working.

Comfort and functionality have a lot to do with the pieces you select. For example, when choosing furniture materials, opt for soft fabrics and plush padding. You may also want items with lightweight frames, like aluminum or plastic, so it's easy to rearrange your space to find the perfect patio layout to suit your needs.
Improve Your Video Background
Video calls are a necessary part of working remotely, so it's important to have a professional-looking background. If your lawn or landscaping appears on-screen, make sure to keep them well-manicured and weed-free. You may also want to use your house as a backdrop. Just make sure your outdoor lighting is adequate and doesn't cast a shadow on your face.
Set Up Heat and Cooling Systems
Depending on where you live, working outside year-round could be difficult during the especially hot or cold months. With the help of patio heating and cooling systems, you can stay comfortable throughout every season. Some systems require an electrical hookup, while others might run off of fuel or solar energy.

Looking to keep your patio toasty in the fall or winter? Outdoor heaters use propane or natural gas to keep small spaces at a comfortable temperature. Alternatively, fire pits, fire rings and chimeneas keep your outdoor office cozy while fire glass creates a warm ambiance similar to a classic wood fireplace.

You can also find options for cooling your outdoor workspace. Patio misting systems are large floor fans that disperse a cool mist into the air, though they may not be ideal when using electronics. Alternatively, you might prefer a dehumidifier or an evaporative cooler that absorbs water and cools the air with fans.
Tips to Enhance Your Outdoor Office
If you find working outside helps your mental health and encourages your productivity, then making room for an outdoor office is a great idea. Go a step further to enhance your workspace with these helpful tips:


Maintaining your patio furniture with covers and special cleaners keeps your favorite tables and chairs in top condition for years of comfort and use.
Beautify your outdoor office space by decorating your patio with accessories that complement your style or fit with a theme to make your work area more personalized.
Take the convenience of smart home automation outside with tech gadgets for your backyard, such as smart devices to assist with yard work.