ALL
4 Tips on Choosing a Good Swing Chair for Your Home
by vickyguo on May 19, 2021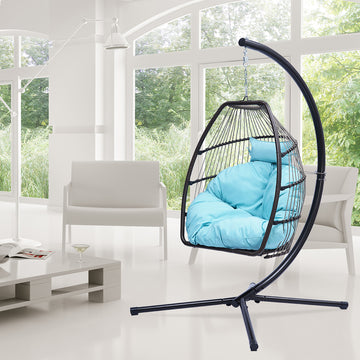 4 Tips on Choosing a Good Swing Chair for Your Home
Swing chairs are getting more and more popular these days especially for the small homes . This is because a swing chair acts as a added furnishing to complement the living room; giving your living spaces the unique alfresco living experience. There is a number of designs and brands to choose from in the market, so it'll be good to follow these 4 buying tips!
1. Size Does Matter

First thing is to check with the furniture retail staff on the size of the swing chair. Find out the diameter of the base, the height and the width. Make sure that the swing chair fits perfectly in your home's alfresco corner. By confirming on the right size and right type of swing chair that suits your space, it will ensure a worry free swing chair to deliver at your door step soon!
2. Weight Tolerance

Weight tolerance is another thing to consider. The retailer does not know if the home owner has a heavy weight champion or a feather weight chap in the family. The home owner has to be honest with them. (It is okay the retail staff won't reveal your weight!). By being upfront with the furniture retail staff, they would better find and recommend the right alfresco swing chair for you. Usually every swing chair would have a estimated weight range, ask for it. But try to be conservative with the weight range, aim for the minimum but not the maximum. If you are considering getting two adults into one swing chair, a couple swing chair is recommended!

3. Blends Well with Your Space

Alfresco swing chairs comes in various shapes, designs and colours. However, do not make it as the only highlight in your living space. Try to let your swing chair complement with other furniture designs such that you will have a holistic alfresco living experience instead! Ask the retail staff for available colours of cones and cushions; do make use of their design senses to recommend the right colour of swing chairs for your interior space by telling them the colours and designs of your existing furniture.

4. Easy Customization

Swing chairs can also be customizable at an additional charge for the home owners. Sometimes there may be extreme cases that the retailers need to help for certain customers requests. For example, there will be requests of installing the swing chair by attaching it to the ceiling instead of support base. There were also times when the home owners request for oversized swing chairs cones due to heavy weighted customers; such request may also be fulfilled to the customer's needs as well!

In summary, swing chairs are great companions for your home living space but do take some time to select a good one that are both appealing and practical to enhance your home living experience! Hope this 4 buying tips can help!