ALL
4 Reasons to Consider a Dual Shower Heads
by vickyguo on Apr 25, 2021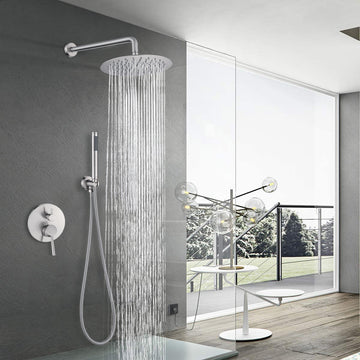 5 Reasons to Consider a Dual Shower Heads
    Want that luxury feeling to continue long after you've returned home from the hotel or spa? More and more of us are wanting to enjoy an enhanced showering experience at home, which is where double shower heads come in.

    Dual shower head systems comprise two shower heads in one unit: a fixed shower head and a hand-held one. The two-in-one setup means you can personalise your shower experience depending on your mood, alternating between the fixed head and the hand-held head. Our shower range also allows you to have both showers on at the same time.
    Here are five reasons why you should consider a dual shower in your home.

1. A spa-like experience

    Without a doubt, one of the key benefits of a double shower is being able to enjoy a spa-like experience in your own home. The fixed head provides you with a relaxing and drenching full body spray, while the hand-held head offers a powerful and invigorating spray that can be targeted to massage specific parts of your body. For the optimum spa-like experience, consider combining your dual shower with a walk-in shower enclosure. What more could you possibly want?

2. Elegant designs
    Whether you're designing a traditional or contemporary bathroom, there are elegant styles to suit your taste.Elegant design easily blends with the decor of your bathroom. For a Elegant design try the Boyel Living's products 
3. More flexibility

    Two shower heads with different purposes mean that you have added flexibility when showering, and you can tailor your shower experience to suit your needs. Spray settings are controlled on each shower head separately, so you can set each shower head to give you a different type of spray, and the hand-held head is a useful option when you don't want to get your hair wet.Adjustable hand held shower holder and anti-skid handle: 360° rotary joint can adjust the fixed hand shower to any angle as you need.

4. Extra practicality

    While not the most glamourous of benefits, a double shower head provides added practicality when it comes to cleaning your shower. The hand-held head makes cleaning your bath or shower enclosure much quicker and easier, and having two heads means you can also use one to clean the other.
   No matter your budget, explore our full range of dual shower heads and get set to add a touch of luxury, elegance, flexibility and practicality to your bathroom.Make your shower installation hassle-free with our supply & fit service.