ALL
How to Use Wallpaper in the Bathroom
by vickyguo on Jul 02, 2021
Decorating the walls of your bathroom is also an important part of your bathroom renovation.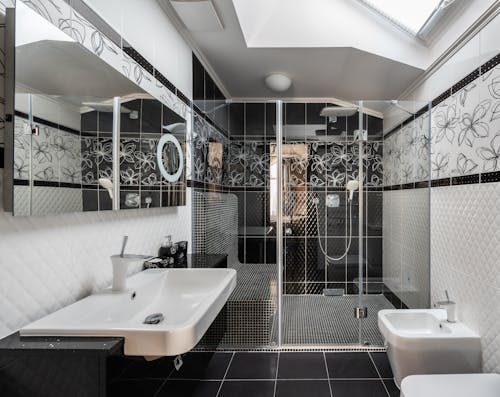 It may not seem like it at first, but time spent in a well-decorated bathroom is much more enjoyable than time spent in a completely sterile and functional bathroom. Clean and functional is a good thing for a bathroom, but if that's all there is to a bathroom, then they're missing out on a lot of potential design impact. The possibilities for decorating a bathroom are endless, from a rustic escape with modern decor to your own personal spa retreat. The bathroom is a high-use room. All family members use it multiple times a day, so plan ahead for a vision that suits you and your lifestyle.

Whatever your vision of the ideal bathroom, you can take advantage of any number of beautiful upgrades to create the look you desire. Without a doubt, wallpaper is one of the best decorating tools you can utilize. It offers a wide variety of uses at a wide range of costs.

Tips for Decorating a Bathroom about the Wallpaper
Wallpaper Options for Your Bathroom
The rules for wallpapering a bathroom are the same as those for any other room. You can cover the entire room, or you can cover just one wall (the accent wall), which will be the focal point of the entire space. Both options are fine, but there are several reasons why you may want to use wallpaper less often in a bathroom than in other spaces.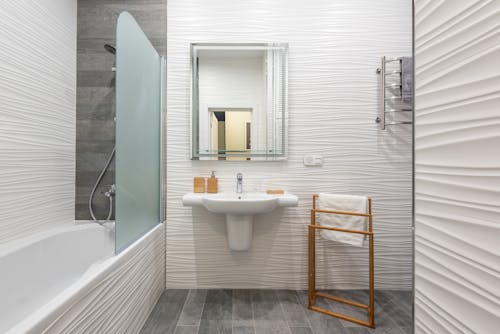 Bathroom wallpaper can cause problems since the moisture and humidity might cause it to peel off. Even with the greatly improved wallpaper adhesives available on wall coverings today, the conditions that exist in every bathroom can have an effect on the adhesive over time. If you do choose to wallpaper your whole bathroom, or especially the area by the sink and tub, opt for "splashproof" wallpaper. This type of wallpaper is specifically designed for high humidity areas and is even wipeable, should anything get on it. If your bathroom is well-ventilated and doesn't get very humid, standard wallpaper should work fine in your space.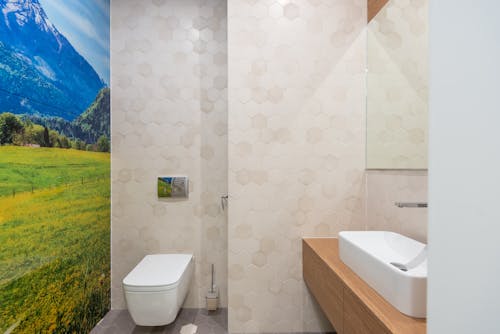 Ways to Use Wallpaper
If you have a separate toilet room or stall out of the main area of the bathroom, use wallpaper in just this small area. The wallpaper will highlight the two rooms (or areas) and place the wallpaper away from the humid shower to protect it.
If your home has a jack-and-jill bathroom, install wallpaper in the areas that are outside of the shower and bath space, like just the sink area in between the stalls. Use complementary paint colors for the two bathroom stalls to tie the whole room together.
Use beautiful bathroom wallpaper for extra punch in a small powder room or half-bath. These small areas won't have a shower or bathtub that will steam up the room and negatively impact the wallpaper. Don't shy away from a big, bold pattern in a small room.
For a special custom touch in any bathroom, consider a wallpaper border below the ceiling or around a mirror, window, or door. Another option is to wallpaper only one wall, creating a standout accent wall.
If you have a wallpaper you truly love but can't manage to wallpaper the walls of the bathroom, simply buy one sheet, frame it, and hang the frame in the bathroom. You'll turn the wallpaper you love into a standout piece of artwork.
If you're thinking of putting wallpaper in your bathroom, check with the guidelines of the paper and adhesive you're considering. Read the installation instructions, prepare the walls carefully, and go for it.